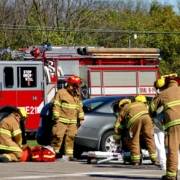 If you run a home health care agency where employees use their own car it is essential that you have a specifically designed implemented driver safety policy for home health care agencies.
Drivers Safety Policy For Home Health Care Agencies 
Have a MVR reporting system where employees drivers licenses are run automatically —

MVR reports are an ideal way to identify candidates or employees with unsafe driving records. Any time an employee commits a driving infraction you will know right away. Some agencies run a yearly report and think this is sufficient, but drivers can get in trouble a week after the report is done. This happens more often than you think! CLICK HERE for more info on an MVR Reporting Service.

Make sure your employee handbook clearly states that employees who will be driving their own vehicles must have purchased at least $500,000 worth of auto liability insurance. This way, if an employee gets into an accident, it is his/her policy that is first in line. If your employees are only carrying the minimum amount of insurance, you can be on the hook for the remaining amount of damage. Make sure to have a process that confirms there is coverage in place. You should be checking this at least once every year.
For a Plan B, you should make sure to have hired and non-owned auto liability insurance, which you can read about here. This will protect your business from liability when you or your employees are driving for work related purposes and functions.
Before working for Metropolitan Risk, I worked for a pool maintenance/cleaning company where my duties often consisted of driving around Westchester County in my own car. I would drive from house to house to clean pools and check up on heaters and filters. While I (knocking on wood) was able to avoid getting into any accidents, a co-worker of mine was not as lucky. Our boss did not take any insurance precautions, and was on the hook for a large sum of money.
Home health care agency workers are often pressed for time, and it should be easy to see how one of your employees might be driving a little recklessly to get to their destination faster. Further some of them are transporting your customers in their cars which really heightens the risk. Make sure to follow these steps to keep your risk and ultimately your costs as low as possible. If you have any further questions and wish to speak to an advisor, give us a call now at (914) 357-8451!
http://www.metropolitanrisk.com/wp-content/uploads/2017/07/bigstock-Emergency-Crew-On-The-Scene-964957.jpg
592
900
Scott Eisland
http://www.metropolitanrisk.com/wp-content/uploads/2013/07/logo-300x147.png
Scott Eisland
2017-10-07 09:26:51
2018-09-21 14:03:33
Importance of a Drivers Safety Policy For Home Health Care Agencies